Overview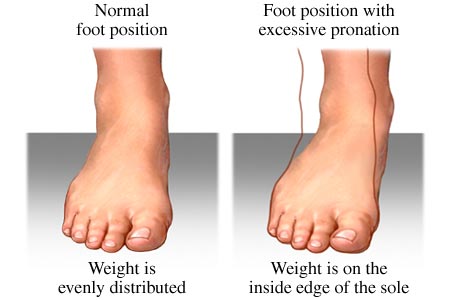 Hallux valgus, often referred to as "a bunion," is a deformity of the big toe. The toe tilts over towards the smaller toes and a bony lump appears on the inside of the foot. (A bony lump on the top of the big toe joint is usually due to a different condition, called hallux rigidus.) Sometimes a soft fluid swelling develops over the bony lump. The bony lump is the end of the "knuckle-bone" of the big toe (the first metatarsal bone) which becomes exposed as the toe tilts out of place.
Causes
Bunions may be hereditary, as they often run in families. This suggests that people may inherit a faulty foot shape. In addition, footwear that does not fit properly may cause bunions. Bunions are made worse by tight, poorly-fitting, or too-small shoes. Bunions may also happen due to inflammatory conditions such as arthritis. Anyone can get bunions, but they are more common in women. People with flat feet are also more likely to get bunions due to the changes in the foot caused by bunions. There is also a condition called adolescent bunion, which tends to occur in 10-to-15-year old girls.

Symptoms
The symptoms of a bunion include pain, swelling, and redness over the bony bump on the inside of the foot. It can become painful to walk, because the big toe bends every time you take a step. Shoes can become painful to wear, especially ones that are even a little bit tight. Usually, bunions become more painful as they get larger. In severe cases, you can develop arthritis in the big toe as a result of the bunion. However, a bunion that is not painful does not need surgical treatment, even a large one.
Diagnosis
Diagnosis begins with a careful history and physical examination by your doctor. This will usually include a discussion about shoe wear and the importance of shoes in the development and treatment of the condition. X-rays will probably be suggested. This allows your doctor to measure several important angles made by the bones of the feet to help determine the appropriate treatment.
Non Surgical Treatment
Pain is the main reason that you seek treatment for bunion. Analgesics may help. Inflammation it best eased via ice therapy and techniques or exercises that deload the inflammed structures. Anti-inflammatory medications may help. Your physiotherapist will use an array of treatment tools to reduce your pain and inflammation. These include ice, electrotherapy, acupuncture, deloading taping techniques, soft tissue massage and orthotics to off-load the bunion. As your pain and inflammation settles, your physiotherapist will turn their attention to restoring your normal toe and foot joint range of motion and muscle length. Treatment may include joint mobilisation and alignment techniques, massage, muscle and joint stretches, taping, a bunion splint or orthotic. Your physiotherapist is an expert in the techniques that will work best for you. Your foot posture muscles are vital to correct the biomechanics that causing your bunion to deteriorate. Your physiotherapist will assess your foot posture muscles and prescribe the best exercises for you specific to your needs. During this stage of your rehabilitation is aimed at returning you to your desired activities. Everyone has different demands for their feet that will determine what specific treatment goals you need to achieve. For some it be simply to walk around the block. Others may wish to run a marathon or return to a labour-intensive activity. Your physiotherapist will tailor your rehabilitation to help you achieve your own functional goals. Bunions will deform further with no attention. Plus, the bunion pain associated does have a tendency to return. The main reason is biomechanical. In addition to your muscle control, your physiotherapist will assess your foot biomechanics and may recommend either a temporary off-the shelf orthotic or refer you to a podiatrist for custom made orthotics. You should avoid wearing high heel shoes and shoes with tight or angular toe boxes. Your physiotherapist will guide you.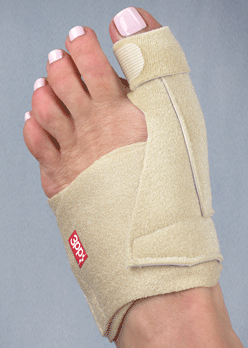 Surgical Treatment
Bunion surgery is occasionally required when the bunion deformity is too advanced for conservative treatment to work. Your surgeon will usually cut an angular section from the bone to correct the alignment. In some cases, multiple toes may need to be straighten.
Prevention
To help prevent bunions, select your style and size of shoes wisely. Choose shoes with a wide toe area and a half-inch of space between the tip of your longest toe and the end of the shoe. Shoes also should conform to the shape of your feet without causing too much pressure.
Patiko (0)
Rodyk draugams